Mortal Engines by Phillip Reeve
I absolutely fell in love with the Mortal Engines film by Peter Jackson, which I've reviewed here, and ever since I watched it, I've been wanting to read the book. I finally had time to finish it the other week and I ADORED it. There are a few big differences from the film, but I loved both in their own way. For anyone who loves dystopian fiction, definitely dive into this series.
*SPOILER WARNING*
"You aren't a hero, and I'm not beautiful, and we probably won't live happily ever after," she said. "But we're alive, and together, and we're going to be all right."
Oh my goshhhhh, this book is so fantastic, I cannot. Hester/Tom are so fucking perfect together. The scene where he's specifically told not to tell Hester and in less than a second goes, nope, Hester's gonna be mad if I don't and then runs off to tell her immediately is *chef's kiss* These two are so perfect together I canNOT.
Tom looked round at her, and saw more clearly than ever before the kind, shy Hester peeping from behind the grim mask. He smiled at her with such warmth that she blushed.
This entire book has me like, protect Hester Shaw at all costs she is precious, despite the fact that, you know, she could break my face with her pinkie finger.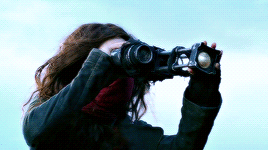 But seriously, this book is soooo good. And as grim as it is, this universe is fascinating! I definitely love Tom and Hester as much as I did in the film. Anna is a total badass, too! I also adore Kate and Bevis. Precious little investigator duo \o/
Anywho, I must get the rest of the series!